Articles
Gastronomy Essentials - Press Release
Ecole Ritz Escoffier Paris. Tradition Meets Evolution
News - Articles
After three years of renovation and just a few weeks before Ritz Paris reopens in 5th of June, Christophe Messina, Pastry Chef at Ecole Ritz Escoffier, visited Athens for a unique pastry demonstration.

The first official reappearance of Ritz Paris and Ecole Ritz Escoffier worldwide, included a two-day seminar for Greek Pastry Chefs, which took place successfully on 10th and 11th of May, at Odos Kassandras venue, Votanikos area, in Athens/Greece.

The presented recipes combined traditional tastes with modern techniques perfectly and represented in general the unparalleled elegance of classic French pastry.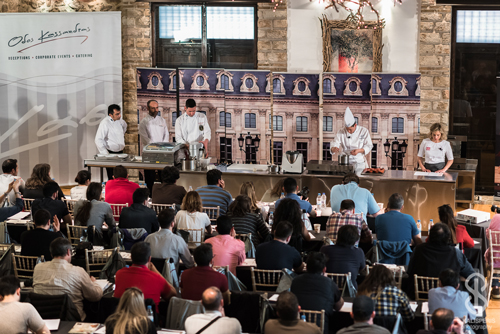 The first day of the demonstration that aimed at connecting tradition with modern pastry, was an introduction to classic pastry recipes of the great French Chef Auguste Escoffier, which were engraved on the map of culinary history.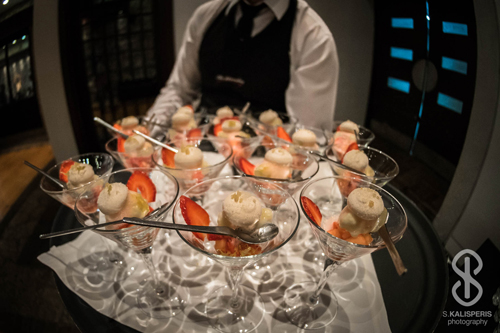 For example, the delicate and gluten free, Fraises Sarah-Bernhardt which was created in honor of the famous actress consisted of pine apple sorbet strawberries and pine apple marinated in champagne and half-baked meringue.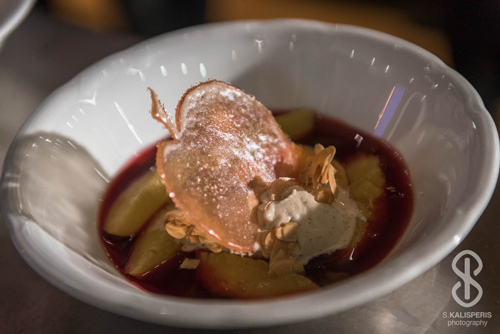 Peche melba, a dessert created by Escoffier in honor of the Australian singer Nellie Melba in 1893 couldn't be left out of the chosen delicacies and was presented as Meli Melo of Peche Melba made by poched peaches, raspberry juice, peach jelly, raspberry and ibiscus sauce, vanilla icecream and caramelized almonds.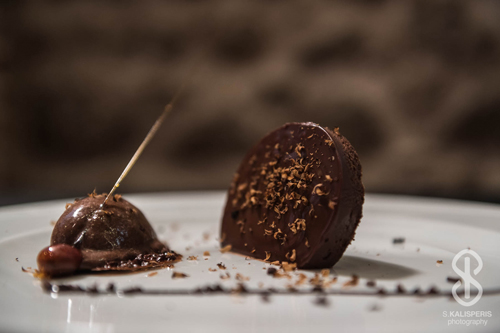 The first day ended with a velvety Montmorency Souffle with almond biscuit and raspberry juice, glaze and sauce.


At the second day the talented and experienced pastry chef presented recipes using the latest pastry techniques, which are currently used worldwide

He started by making crisp and fluffy pate a choux for a tasteful profiterole with mango, sesame and chocolate-coconut sauce. .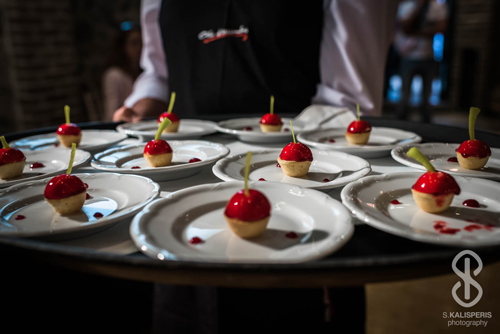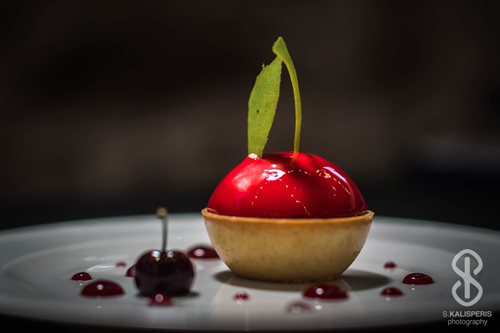 The creamy raspberry nougat with peach, fig and caramelized nuts was next and the epilogue included a chocolate and tonka bean palet.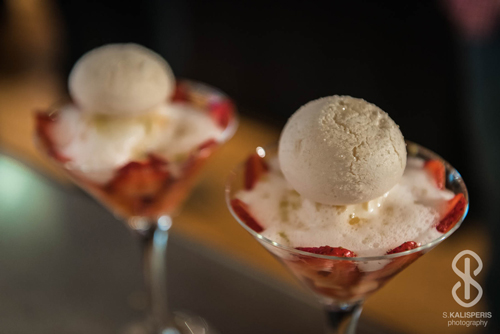 In addition, the seminar was also beneficial for the participants for two extra reasons: a free ale retour, ticket for 2 persons in Paris-a special offer by Delifrance and a training programme at Ecole Ritz Escoffier, which after a lottery, 2 lucky participants won.

The programme was organized by The Greek Tourism Confederation (SETE) and coordinated by Gastronomy Essentials Ltd..

It was also Under The Auspice of French Embassy and Institut Francais in Greece and supported by the Hellenic Pastry Chefs Club.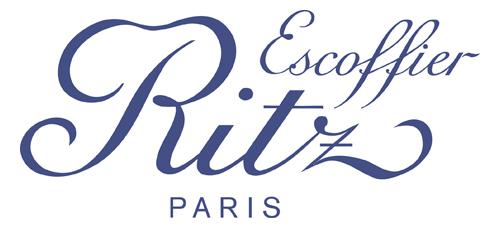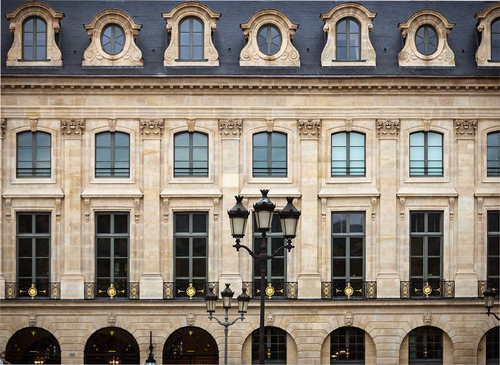 About Pastry Chef Christophe Messina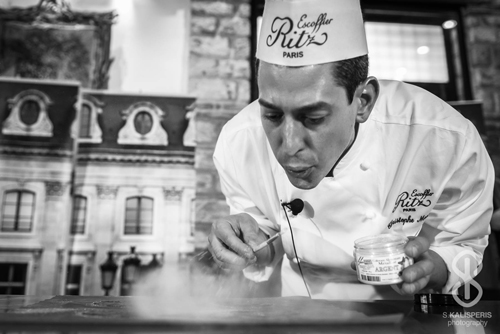 Pastry Chef Christophe Messina, from Ecole Ritz Escoffier / Ritz Paris Hotel, started his career as part of the the renown Pierre Herme's team and then worked at chef Jaques Chibois 2 ** Michelin restaurant Bastide.

He collaborated with Guy Savoy for two years in his awarded 3*** Michelin restaurant but also in the 1* Michelin Chiberta restaurant, which he also owned.

After leaving France, he became Head Pastry Chef at Abode Glasgow Hotel in Glasgow, where he created the desserts for chef Michael Caine's fine dining restaurant.

In 2010 he joined the opening team of the Shangri-La hotel in Paris, worked there until December 2015 and this year he started cooperating with Ritz Paris, as pastry professor at Ecole Ritz Escoffier.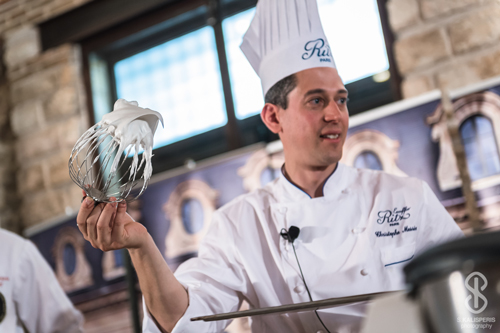 Assistant Chefs
Giorgos Giotas, Apostolis Giotas, Alexandra Mimikou, Karakidis Filippos, Laskaridis Sotirios, Lamprini Mastora, Filippos Siakantaris, Aggelos Ntavanantelis
Sponsors
Valrhona, Deals, Delifrance, Unilever Food Solutions, Xenex, 4F, Egem, Food Concepts, Chefstyle, Thermomix, Odos Kassandras
Media Sponsor
Athinorama Magazine
Photographer
Stelios Kalisperis
Video
Panos Golfis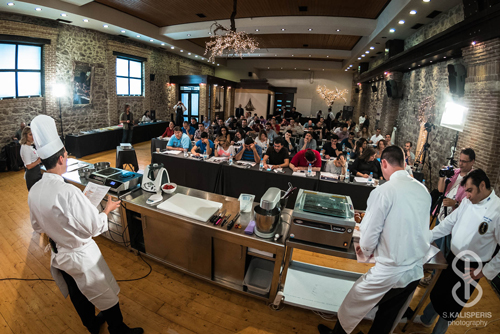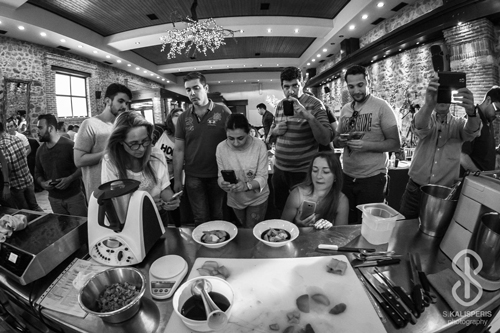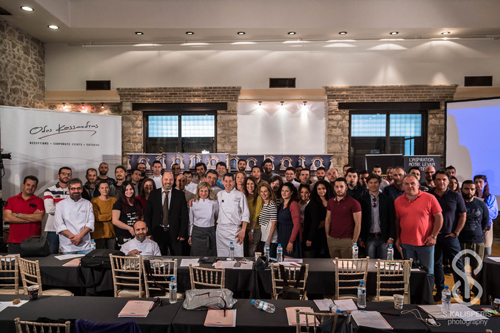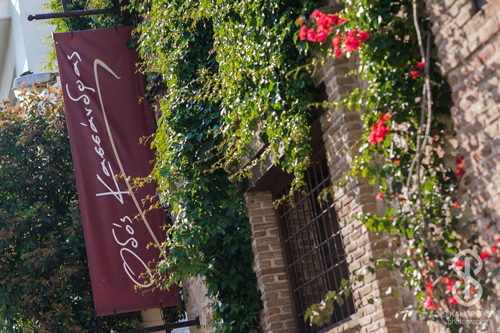 For more information you may contact with Mr Harry Haralambidis, CEO and founder of Gastronomy Essentials Ltd.

Τηλ.: +30 6972444820
Website: Cucina.gr
Facebook Page: Gastronomy Essentials Ltd




---