Articles
Ramon Morato: 'Pastry Confidential'
Interview to Cucina.gr - by Eleftheria Vasiliadi
News - Interviews
Celebrated Spanish pastry chef Ramon Morato recently visited Athens for a unique pastry demonstration for professionals which took place in hotel Athenaeum Intercontinental.

The theme of the master class was New concepts, techniques and modern pastry creations and during the two-day seminar the experienced pastry chef made a detailed demonstration of some of his impressive latest creations.

All recipes had a tasting part which also included a great sample from the recently released book Four in one. The publication is the interesting result of the chef's cooperation with three of his also renowned colleagues: Josep Maria Ribe, Raul Bernal, Miquel Guarro and is published by Grupo Vilbo.

Refined presentation, authenticity, intense flavors and colorful presentations are the basic elements of his creative pastry creations which familiarized us with his impressive style.

The tasting experience of his smoked whisky baba, taste of Haiti, pure Peru x2 and west Indian pearl definitely offered us memorable moments of profound elegance...

Meet the Chef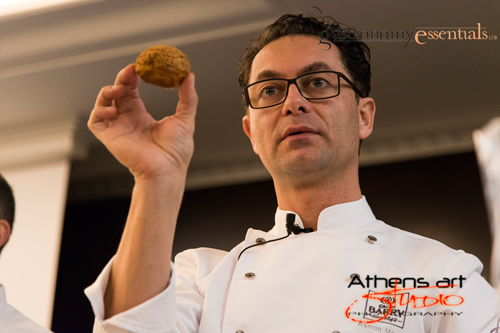 Ramon Morato was born in Manlleu, Barcelona and after completing his studies, he began his training in various establishments, taking simultaneously a great variety of courses offered by the School of the Provincial Confectioners Association in Barcelona.

His impressive cv includes working by the side of several acclaimed Spanish confectioners, study at important schools and technical centers such as the ZDS in Solingen, Germany and the Richard Conseil school in Lyon, France and much more.

His enterprising spirit triggered him to participate in numerous competitions, amongst which was the Mejor Maestro Artesano Pastelero: M.M.A.P.E. 97, the highest distinction for Spanish confectioners.

His experience and constant eagerness for innovation are reflected at Ramon Morato chocolate, his finest publication which won the prize for the Best World Book 2007 on Chocolate, granted by the distinguished Gourmand World Cookbook Awards.

His knowledge was gradually enriched and his techniques evolved by researches on creating numerous desserts. He currently delivers courses, seminars and conferences all over the world, as well as special endeavors such as the Harvard University collaboration project through the Alicia Foundation and also cooperates with the Chocolate Lab in Barcelona and Creative Director for the French brand Cacao Barry.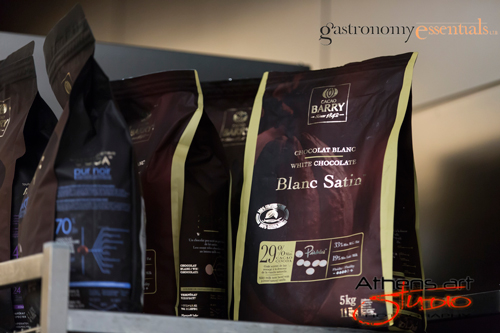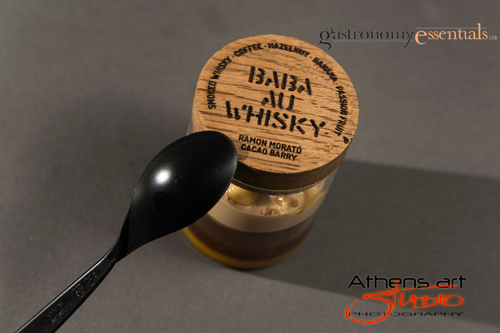 Interview
How would you describe your philosophy? What's your greatest inspiration?


I don't have a philosophy, I simply make pastries and chocolates. "Philosophy" is too grand term... but just like everyone else I try to stick by certain principles.

First of all, the use of high-quality noble raw materials, the use of minimally invasive techniques and, when the balance of the recipe allows it, the elimination as far as possible of superfluous ingredients that don't add anything, all with the goal of prioritising flavour, texture and finally aesthetics, which I try to keep simple and clean. Less is more...

My inspiration comes from everything that surrounds me, the people close to me, my fellow professionals, future food trends, social networks...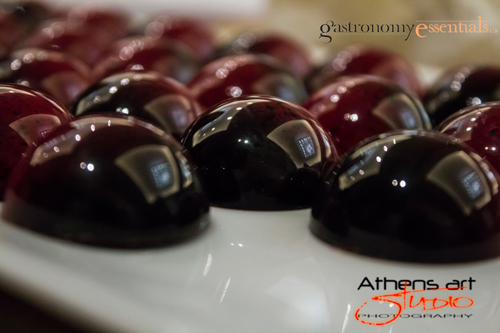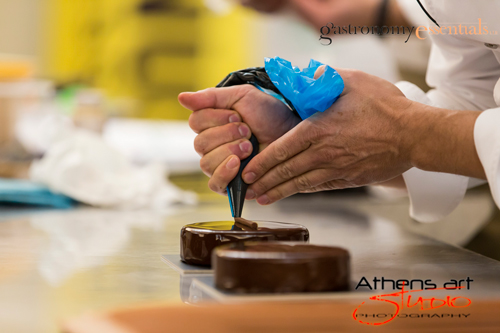 You are one of world's most acclaimed pastry chefs. Which are the main characteristics that you consider as the base that helped you make the difference?


I'm not sure that I'm one of the most acclaimed, the more I travel the more I realise that there's an awful lot of talent everywhere...

Pastry making is really having a moment. Personally I've always been interested in technology, art, design... I try to transmit all of this in my courses, so this and the fact that I try to do different things from other people.

That's really difficult in this globalised world, but I try to do it as far as possible.


Why did you become a pastry chef? If you had the opportunity to choose another profession what would that be and why?


I began working at weekends in a pastry shop and I loved the profession. From there I continued my training at various schools and establishments. If I hadn't become a pastry maker I'd have liked to be a journalist or writer; I enjoy writing. My dream is that one day I'll be able to devote myself exclusively to research and writing books...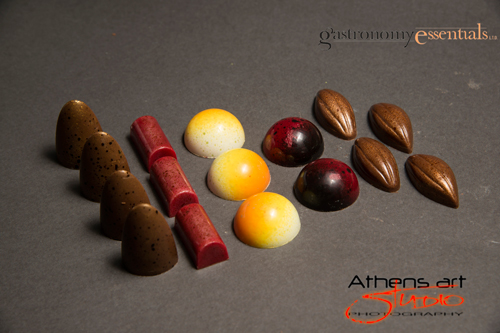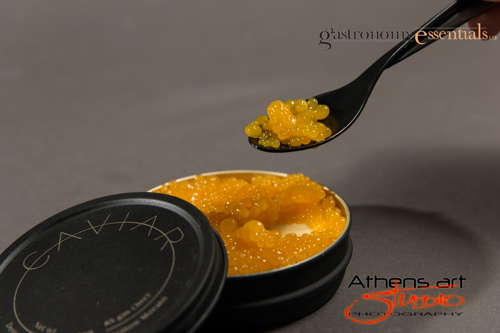 Which are the main difficulties at your profession? Can you name some of the difficulties that you faced during your career?


Information is everywhere nowadays, there are schools, the internet... When I started out recipes still used to be kept secret.

I remember that my first boss used to make different people weigh out ingredients. He'd split recipes into two or three so we wouldn't have the full recipe. I'd like to think that those days are over...


I believe chocolate is your (and many of your colleagues') favorite ingredient. Why do you distinguish chocolate?


Chocolate is a noble ingredient, there's an incredible history and process behind it. And there's no product like it, from the entire palette of flavours it gives us to the way in which it's cooked, incorporated or combined with other products.

For me, there can be no doubt that a good chocolate is a key ingredient.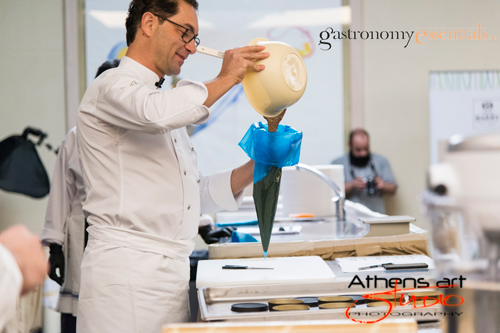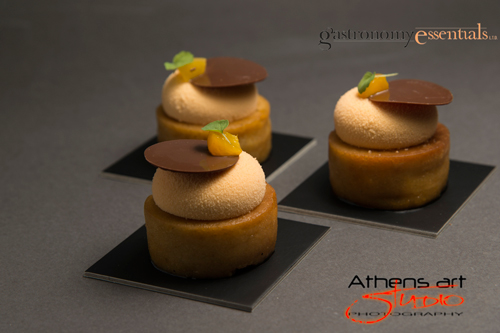 Which is your signature dessert?


I've got several, but in my latest book I made a dessert inspired by Nikkei cuisine that I'm very proud of.

Not just for the final result but also for the creative process involved.

There were plenty of discussions with my colleagues which in the end produced a dessert, so I can't say it's just mine but rather a group effort.

And this is where the richness lies: you can do interesting things on your own but team work contributes different things that you wouldn't do alone. The dessert is composed of red miso paste, soba roasted buckwheat tea, salted caramel, muscovado sugar dacquoise, corn and mango ice cream and a kakigori of dark chocolate from the Alto El Sol plantation in Peru.


Name some of the "key moments" and projects in your career.


1/ When my parents told me that being a pastry chef wasn't a good idea but that it was up to me and that if I decided to go ahead with it I should try to do it to the best of my abilities.
2/ When I won the Spanish Pastry-Making Championship after working with Paco Torreblanca, the great master.
3/ When I published Chocolate, a book that opened up the doors of the world to me.
4/ When I gave a talk at Harvard University as part of its science and gastronomy days through Ferran Adria's foundation. I'd never been so nervous in my life...
5/ When I became Creative Director of the Cacao Barry brand three years ago.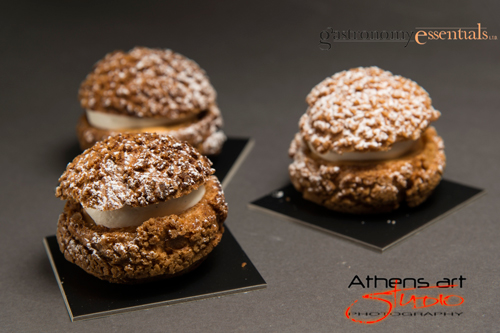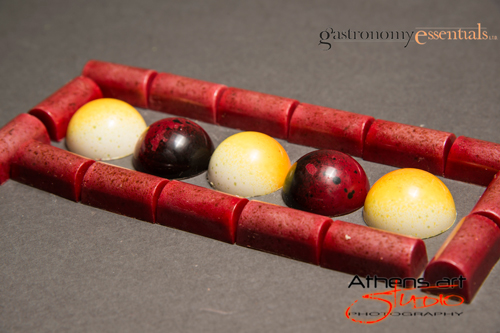 Tell us about your latest publication venture, "Four in One".


It's been a very special project. Producing a book with Raul Bernal; Miquel Guarro and Josep Maria Ribe has been a dream come true, the crowning moment of the career I embarked on back at school 20 years ago.

Whatever you think of the final result, it transmits the great atmosphere we have at the school and the fact that we're a team.


What are you working on at the moment?


Right now I'm in the middle of a promotional campaign with Cacao Barry.

I've just got back from the Sirha Fair in Lyon, soon I'll be off to the US for a Chocolate Academy course and later on I'll be heading to Singapore, along with plenty of trips to Paris; it's all go.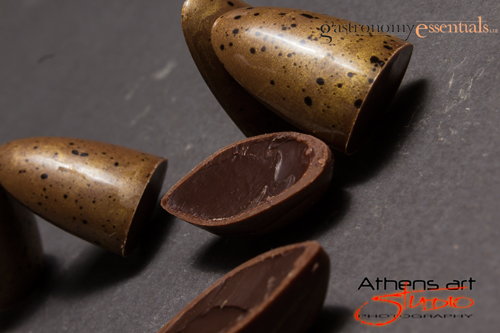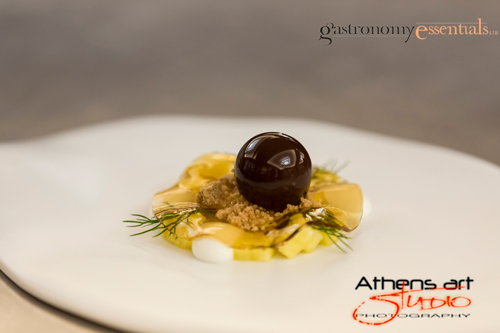 Which are the latest trends in pastry?


I think we should separate purely technical trends, such as the use of the "tourbillon" invented by Yann Bris for instance, from the more conceptual trends. In fact, together with the Cacao Barry team of chefs we've presented a series of classic French pastry-making products inspired by the food trends predicted up until 2020, such as "instant luxury", "raw culture", "Intox-Detox", etc.


Which pastry chef or chefs do you admire most and would like to cooperate with him/her (or them) in a new project?


Gosh, to be honest I admire so many people...

When I was younger I loved being surrounded by older people, whereas now I love working with young people for the energy and freshness they bring, the interest they show.

I'd love to have a few days to discuss pastry making, to create and to eat together with someone like Pierre Herme, the great master, with Johann Martin or Frank Haasnoot, Guillaume Mabilleu or Jean Michel Perruchon, and of course with all the guys in the Barcelona team: Josep, Raθl, Miquel...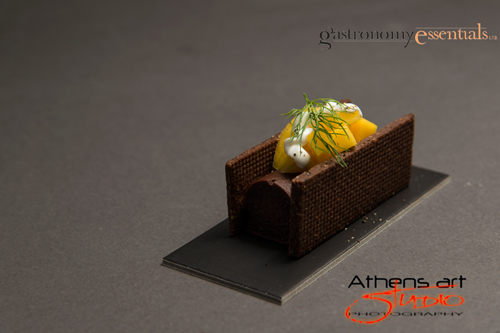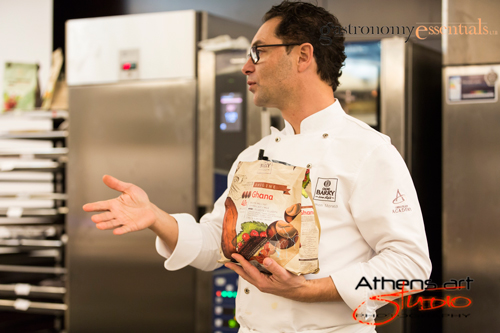 We've seen cooks interacting with customers in many ways in some restaurants but that doesn't happen with pastry chefs. Is there any particular reason for that?


I suppose the difficulty lies in the fact that the experience you get when you eat in a restaurant is very different from the one you have when you enter a pastry shop, purchase a product and leave again. There's still a lot of work to be done in this respect.


Is the issue of pastry chefs wanting to graduate up the ranks too soon an issue in Spain?


I think this is a global phenomenon. Nowadays, with the boom in cooking programmes on TV, many people want to become great chefs overnight, but the reality is rather different in this business, whether it's a restaurant, hotel or pastry shop; it's still tough and a profession you need to be really passionate about.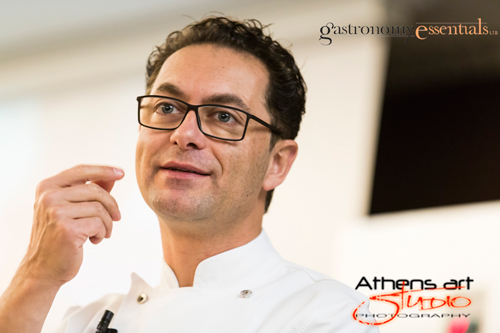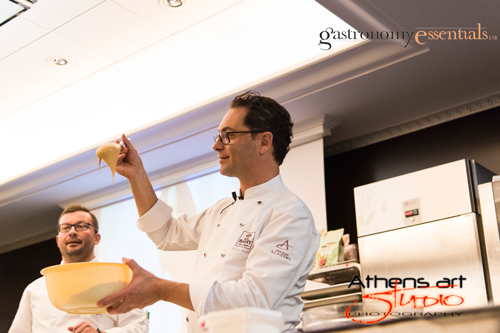 Where did you taste the best dessert?


Turin; I was simply amazed. Also the kouign-amann by Pierre Herme, tiramisu in Italy (my favourite dessert) and some of the restaurant desserts by the great Albert Adria.


You recently visited Athens for a special pastry seminar for professionals. What did you present and which were your impressions of your visit?


During the seminar I was able to present a series of pastry shop and restaurant desserts, along with some bonbons. I really felt at home, the truth is that I love communicating, doing courses and talks, and the audience in Greece is very professional, with a culture very similar to our own.

They show plenty of interest and they're really keen to grow and try new things.


What piece of advice would you give to a young apprentice?


The most important thing is to be happy with what you do and be constant. The rest is just work, work, work, but if it's something you like it becomes a hobby, a way of life.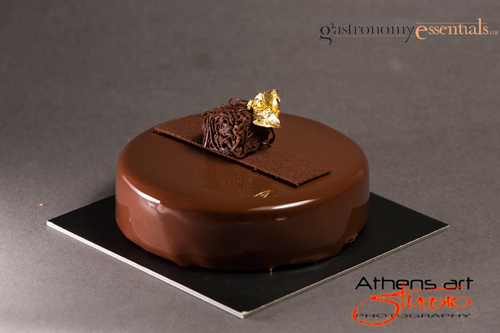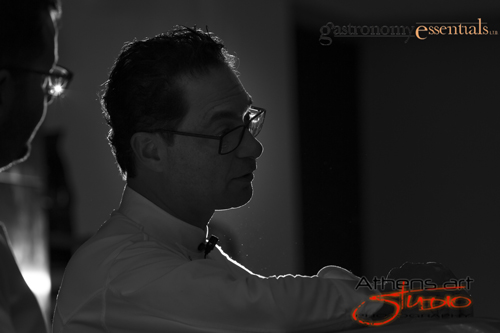 The successful training program was organized by Gastronomy Essentials L.t.d and the book Four in One is available in Greece and Cyprus by Gastronomy Essentials Ltd.

Photo credits: Athens Art Studio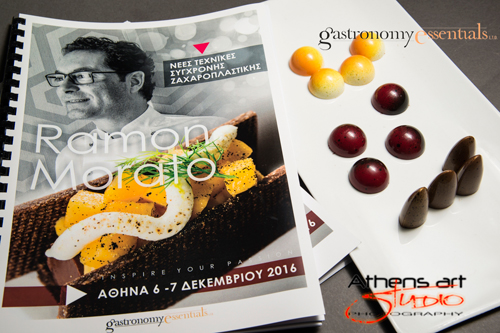 ---