Articles
Alain Ducasse Education - Animation Cuisine
Press Release - Live Cooking (Buffet, Bistrot, Snacks)
News - Articles
Athens, February 9, 2017

A unique demonstration program for professionals with chef - instructor of Alain Ducasse Education, Mark Guillain Williams was presented on February 7th , 8th and 9th in Athens, Greece.

The demonstration took place at Odos Kassandras venue, at Votanikos area.

The main theme of the seminar was Animation Cuisine, which is the upcoming impressive trend in hotel restaurants (resorts and city hotels).

The specific type of cuisine is based on the live presentation of a meal's preparation in front of the customer, which allows guests to view the procedure, the techniques and the composition of the dishes that they are about to taste.

The official presentation of Animation Cuisine by the renowned culinary school, which was conducted and accomplished for the first time worldwide, included techniques and recipes which were divided in three sections: Live Cooking Buffet, Live Cooking Bistrot and Live Cooking Snacks, with four typical recipes per day.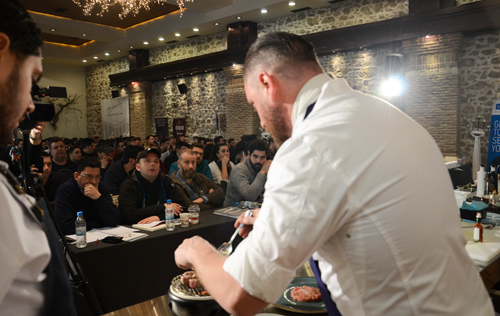 The first day of the demonstration started with Live Cooking Bistrot and recipes such as the traditional dish from Burgundian cuisine oeuf en meurette, beef tartare with mustard sauce, pain perdu with crawfish and Anjou kinoa, roots and black truffle.

The buffet recipes "picked up the torch" on the second day with impressive detailed presentation and special techniques by the chef - instructor who cooked and plated crousti tarte with artichokes and lard, soup with beef and tamarind, a mouthwatering deconstructed parmentier and textures Du Barry.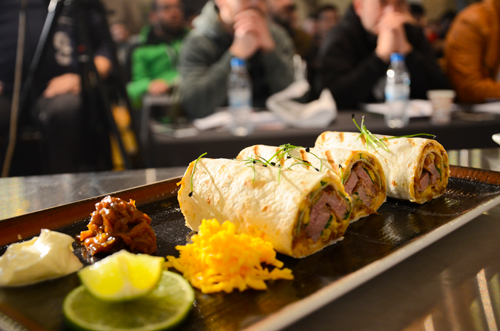 The educational and tasteful epilogue of the tree - day program included snacks such as bagel gambas tartare with shrimps, banh mi, the well-known Vietnamese - style sandwich with pork, a special vegetarian burger and delicious quesadillas with duck breast, caramelized onions and mango sauce.
About Mark Guillain Williams
Mark's career began in London where he practiced at the Ritz and the Fifth Floor Restaurant at Harvey Nichols. In 2001 Mark worked as head of "Angl'Opera", Gilles Choukroun's restaurant in Paris, where he spent two years before joining the team of Alain Ducasse, as sous-chef of the Relais Plaza. In 2008, he became Head Chef of the Salon Premiere Air France Lounge at Charles de Gaulle airport before joining Ducasse Education in December 2011 as Chef Instructor.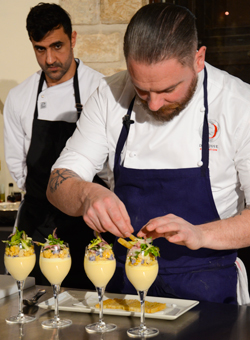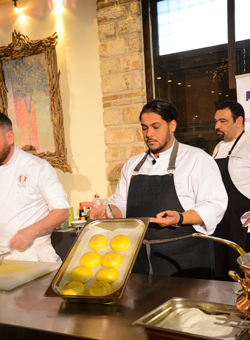 Assistant Chefs
Andrianakis Angelos
Kostakos Athinagoras
Kotzas Vasilis
Pashali Pashalis
Tsiotinis Alexandros
Zervas Aristotle
Photographer
Sponsors
Unilever Food Solutions
EGEM
Metropolitan Food Culture
Electrolux
ChefStyle
4F
Wusthof
Thermomix
Odos Kassandras
Delifrance
Home By Nature
Black Garlic Downvillage
LG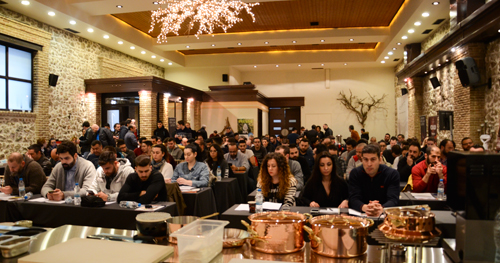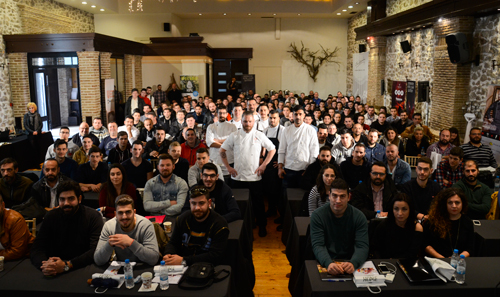 For more information you may contact with Mr Harry Haralambidis, CEO and founder of Gastronomy Essentials Ltd.

Tel.: +30 6972444820
Website: Cucina.gr
Facebook Page: Gastronomy Essentials Ltd


---